VirtueRF – MicroNeedling with Radiofrequency
Radiofrequency Microneedling (RF microneedling) has created quite a sensation in the world of aesthetic treatments due in part to its adoption and promotion by Hollywood celebrities, but more importantly because of the outstanding results that patients are seeing with this enhanced microneedling treatment.
If you are someone who is tuned into the latest techniques for improving the look and feel of your skin, you are likely familiar with microneedling. By creating tiny perforations in the skin, microneedling can promote fresh dermal growth, and the overall quality of your skin can be improved. It's a way to stimulate the natural rejuvenation abilities of the skin. In fact microneedling is also considered "collagen induction therapy" because of the collagen production that occurs after a treatment.
The Curated Aesthetic – one of the leading medspas in Greensboro – is proud to offer the latest in this type of treatment: RF Microneedling or microneedling with radiofrequency. Using the VirtueRF device by Cartessa with Robotic Precision Delivery (RPD), The Curated Aesthetic can offer outstanding results with essentially no recovery time. Get in touch today to learn more or book an appointment for a complimentary skincare consultation.
This is very new technology, and the VirtueRF microneedling device is the only one of its kind with Sub-Pulse technology which allows the provider to fine-tune the energy distribution and achieve optimal results for each skin type.
RF Microneedling addresses a wide range of common patient concerns including fine lines, wrinkles, eyebags, scarring, as well as applications for festoons, buccal, jawline, periorbital and submental areas.
What's the Difference of Radiofrequency Microneedling?
Whether you have previously undergone microneedling treatment or you have just considered it as a potential solution for skin troubles, you'll be interested to learn of the potential advantages of RF microneedling. Some of the benefits are
Reduction in facial lines and wrinkles

Skin tightening

Improvement in acne scars or scars that stem from injuries

Reduction in the visibility of stretch marks

Get outstanding overall results that may surpass traditional microneedling
You can think of the treatment provided by the VirtueRF device as taking microneedling to a much much higher level. It's the same style of treatment as basic microneedling but with vastly improved results due to the RF technology. The goal of this treatment is to generate more collagen and elastin, and that can be done more effectively by upgrading to RF microneedling over traditional microneedling.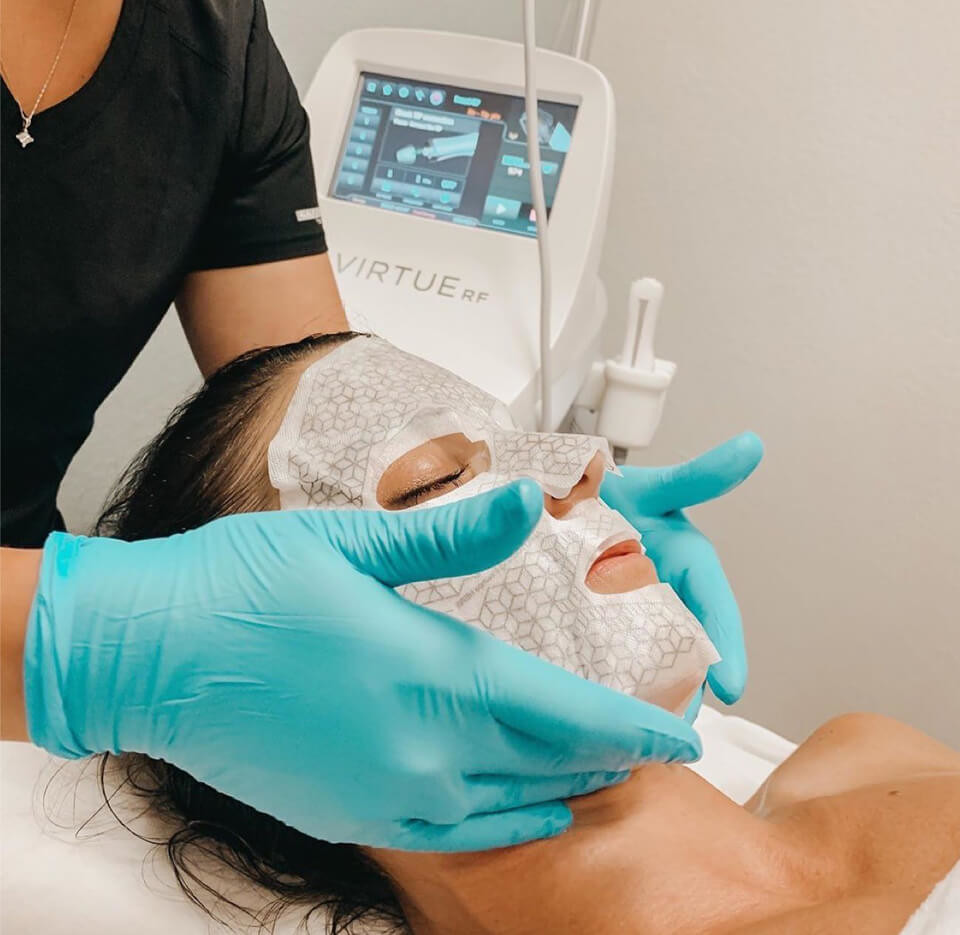 Does it Hurt?
For those who have never tried microneedling, the idea of putting many small "pin-pricks" in their skin may be a bit concerning. Fortunately, it's not painful at all. In fact, the average patient won't experience anything that goes beyond a mild scratching of the skin, along with the warmth that comes from the device. Since the microneedling work is very shallow, you won't feel the kind of pain that you might be imagining. If you still have any concerns, talk to the experts at The Curated Aesthetic prior to your appointment to set your mind at ease.
How Long Does RF Microneedling Take?
One of the many great things about RF microneedling is the impressive results that can be achieved with only a modest treatment time. You won't have to clear out your schedule for a whole day to get great results – generally speaking, the procedure takes approximately a half-hour to 45 minutes to complete. And, as an added bonus, there is no limitation on what you can do after the procedure is over, so you can go right back to life as usual once you are finished. Minimal post procedure redness is gone within an hour or two.
A Gradual Improvement
After you have undergone RF microneedling treatment, you can expect to see your results start to show up gradually over time. Initially, you might see some benefit within the first week or two after the procedure, but things should get even better as the months pass. Ideally you will be able to schedule several treatments over the course of a few months.
Once you have completed all treatments and some time has passed to allow the full benefits of radiofrequency microneedling, you'll likely be enjoying skin that looks healthier, tighter, and clearer than it has in years.
Click on the "Book Appointment" button on this page to begin the process to improve your skin with RF Microneedling today.